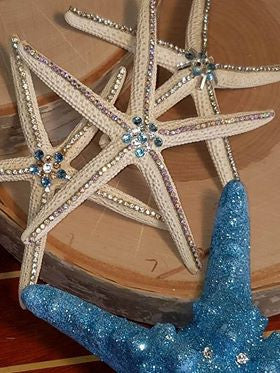 Set of 3 - BEJEWELED FAUX STARFISH with SWAROVSKI CRYSTALS and RHINESTONES!
$ 45.00 $ 75.00
COASTAL ELEGANCE at it's Finest!
Set of 3 BEJEWELED Faux Starfish with Authentic Rhinestone and SWAROVSKI Crystals!
These Beautiful Bejeweled Resin Starfish glisten like Diamonds on the Ocean! 
Hand Decorated with high quality Authentic SWAROVSKI Crystals, and Rhinestones.  Each is hand decorated when ordered, designs may vary.
CLICK HERE FOR VIDEO> https://coastaleleganceboutique.com/products/bejeweled-starfish-accented-with-rhinestones-and-swarovski-crystals-offer
These are a Custom order, made on demand. Please allow 7-10 Business days to ship.
SET of 3
Related products